Board of Directors
The Board of Directors is responsible for the daily management and realisation of Vitens' strategy. This includes strict compliance of relevant laws and rules, and the control of risks attached to the company's activities in financing the company.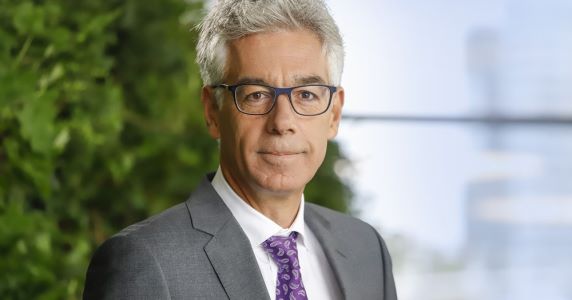 J.J. (Jelle Jan) Hannema
Date of Birth: 7 December 1961
Private situation
Jelle Hannema lives in Langbroek near Utrecht with his partner. He is a passionate cyclist in his spare time.

Jelle Hannema studied law until 1985, specializing in Legal Administrative science, at Amsterdam University. After graduating, he joined the internationally active engineering and consulting firm DHV, now Royal HaskoningDHV. Within DHV, he fulfilled various positions, including strategic consultant and senior adviser environment, management and zoning and development. Subsequently, Mr. Hannema worked in various Board positions within DHV for ten years. During his period with DHV, he was involved in the reconstruction of the Roombeek area in Enschede that was devastated by a fireworks factory disaster. On 1 January 2014, he started in the position of Asset Management Manager with Vitens.

Since 1 September 2017, Jelle Hannema is the Chairman of the Executive Board of Vitens. His portfolio includes Extraction & Treatment, Distribution, Laboratory, Governance & Legal Support, Business Development, Communication, Human Resources and Vitens Evides International.
Ancillary positions
Member of the Supervisory Board of Wetsus
Board Member VEWIN

Board Member Water for Life foundation

Board Member Werkgeversvereniging Waterbedrijven (WWB)

Board Member Stichting Open Bodemindex (OBI)
C.M.M. (Nieke) Martens
Date of Birth: 29 january 1973
Private situation
Nieke Martens lives in Amsterdam with her husband Jorrit and sons Tibbe and Kick. In her free time, she enjoys sports and visiting art fairs and museums.

Nieke Martens graduated in Business Economics from Tilburg University in 1997, obtained her MBA from INSEAD in 2001, and completed the Advanced Management Programme at Harvard Business School in 2022. She started her international career in 1997 at ABN AMRO in Wholesale Banking before transitioning to Private Banking. In 2010, she became Commercial Director at Van Lanschot, followed by Director of Online. In 2014, she made the move to Rabobank, where she successively held the positions of Director of Wealth Management, Head of Digital Transformation, and Chief KYC Officer Retail NL.

Since May 15, 2023, Nieke Martens has been serving as the CFO within the Management Board of Vitens. Her portfolio includes Finance and Control, ICT and Facility Management. Nieke Martens feels a strong connection to the current water challenges and is eager to contribute her expertise to further develop Vitens as a company.
Supervisory board
The Supervisory Board supervises the policy of the Executive Board and the general business process at Vitens. Next to this the Supervisory Board advises the Executive Board.
De heer drs. H.C.P. (Han) Noten (1958) - voorzitter
De heer drs. M.R. (Mark) van Lieshout (1963) (commissaris)
Mevrouw drs. H. (Henriette) Setz MBA (1968) (commissaris)
Mevrouw prof. dr ir G.M. (Gerda) van Dijk (1960) (commissaris)
De heer ir. drs. P.A.N. (Paul) ten Kroode (1961) (commissaris)
Public Shareholders
Municipalities and provinces in Vitens' service areas are our public shareholders. They are not directly involved in the company's business processes. Twice a year a shareholders' meeting is held. Then shareholders vote on new tariffs propositions and speak about the annual report. The public shareholders receive an annual dividend.